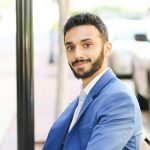 Cheyenne Khalajabadi
VA + MD Realtor®️
A little bit about me...
Cheyenne, a NOVA native, was raised in Fairfax, Arlington, and Loudoun Counties. Cheyenne attended NVCC and majored in accounting while managing his family's auto repair shop alongside his father. This is where he learned the importance of providing clients with a high level of service and attention to detail.
Cheyenne has fond memories of going on drives with his father to look at properties in admiration of their craftsmanship and discussing their potential for improvement. Real Estate has always been a passion of his! After much encouragement from his wife, he made the decision to start a career in real estate.
As a service and solution-oriented person, guiding clients through one of the most important transactions of their life has proven to be a perfect fit. Cheyenne's intimate knowledge of the DMV, coupled with his experience as an agent, allows him to empower and aid his clients in buying, selling and renting real estate. To Cheyenne, confident and satisfied clients are his top priority! Cheyenne now lives in Germantown, Maryland with his wife LeAnn and daughter Minu. When he's not working hard for his clients, Cheyenne enjoys woodworking, swimming, and reading.